I MUST be quick because The Mitch and I are supposed to be leaving to have a weekend of dinner with friends
(I did post a while back that's what I really wanted to spend my time doing and now that The Mitch and I have manifested it, I am being bad and blogging!)
So.......in case you all didn't know, The Mitch and I are getting married! Of course we got engaged on September 3, 2008 - not this fall, but last - oh how time flies. So we are WELL on the way of planning our wedding - in fact, we are so planned the wedding might as well be this July. That's how I roll. But, instead, the wedding is in July 2011 so I can spend a year and a half telling you about all of the awesome components to our localvore wedding while the stressful planning parts have already been completed.
To start, the wedding is at
The Sleepy Hollow Ski & Bike Center
in
Huntington
- just a town and a half away from us located deep in a mountain hollow on a couple of well-trodden dirt roads. Check out their
wedding gallery
to get a glimpse.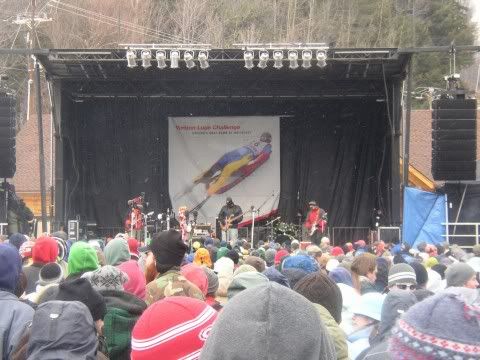 Next piece of Big News is that my beloved band
moe.
- whom I sometimes can squeeze in commentary about even though they are not a Vermont band, are playing the most fantastic ski festival this March in
Rutland, Vermont
and
Killington
-
Snoe.down
. Stay tuned to the Vermont Vibes Blog for some groovy insider scoop to Rutland and Killington and if you've ever wanted to experience the rock star life I love so much - in a Vermont atmosphere of skiing and riding - this is your big chance!!! Check out all the details at
www.moe.org/snoedown
and by golly, buy tickets and book a room!